"I am an invisible man. No, I am not a spook like those who haunted Edgar Allan Poe; nor am I one of your Hollywood-movie ectoplasms. I am a man of substance, of flesh and bone, fiber and liquids--and I might even be said to possess a mind. I am invisible, understand, simply because people refuse to see me."
- Ralph Ellison's "Invisible Man"
Slave Cemetery Burial Records, page 3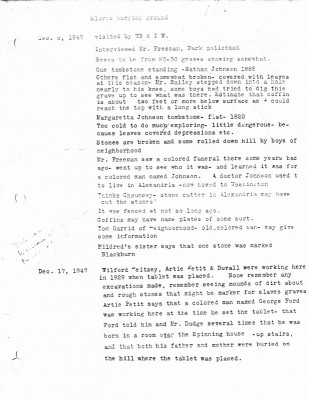 Description taken from records at Mount Veron that George Ford was there in 1929 when the slave memorial marker was place in slave cemetery. They stated that George Ford (son of William Ford and grandson of West Ford) was born in a room over the spinning house.