"I am an invisible man. No, I am not a spook like those who haunted Edgar Allan Poe; nor am I one of your Hollywood-movie ectoplasms. I am a man of substance, of flesh and bone, fiber and liquids--and I might even be said to possess a mind. I am invisible, understand, simply because people refuse to see me."
- Ralph Ellison's "Invisible Man"
Slave Cemetery Burial Records, page 4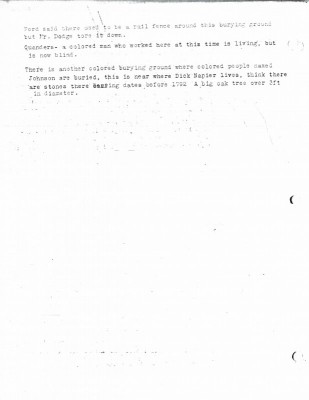 This is a continuing entry from page 3. It states that George Ford told the two workers at the slave cemetery where the tablet was laid that the burying ground used to have a rail fence around it and that Mr. Dodge (a caretaker) tore it down.