"I am an invisible man. No, I am not a spook like those who haunted Edgar Allan Poe; nor am I one of your Hollywood-movie ectoplasms. I am a man of substance, of flesh and bone, fiber and liquids--and I might even be said to possess a mind. I am invisible, understand, simply because people refuse to see me."
- Ralph Ellison's "Invisible Man"
Vera Ford Powell, daughter of George Ford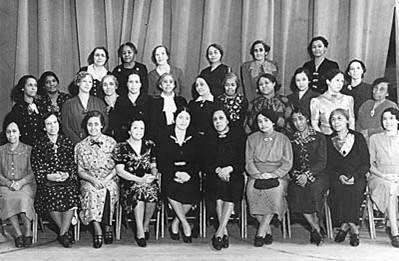 Members of the Charleston Woman's Improvement League in 1928.
From the left, seated: Mary Clark, Rebecca Bullard, Flora Webster Brooks, Ruth S. Norman, Jane Spaulding, Karolyn Franklin, Florence Gordan, Leota Claire, Nancy Carper, and Ethel Davis. Standing in the second row are, from the left: Mary Kimbrough, Cornella Wright, Lucenda Sanders, Hattie Clark, Vera Ford Powell, Carrie James Crichlow, E.A. McGhee, Lizzie Hopkins, Maude Wanzer, Inez Hall, Josephine Moore, Mary Carper Gray, and Ida Page. Standing in the back row, from the left: Flora Gardner, Nan Lou Stephenson, Sarah Bullard, Nina C. Gamble, Amy Hopkins, and Maude Clark Peters.
Photograph courtesy of the West Virginia State Archives