"I am an invisible man. No, I am not a spook like those who haunted Edgar Allan Poe; nor am I one of your Hollywood-movie ectoplasms. I am a man of substance, of flesh and bone, fiber and liquids--and I might even be said to possess a mind. I am invisible, understand, simply because people refuse to see me."
- Ralph Ellison's "Invisible Man"
Venus, Bushfield Plantation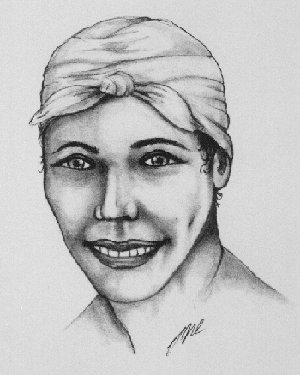 This is a rendition drawing of Venus. Venus was born enslaved on the Bushfield Plantation. She was the personal maid of Hannah Washington and served in the manor house along with her parents, Jenny and Billey. In Ford oral history the father of her child, West Ford, was the son of George Washington. Venus was never freed and lived out her days on the Mount Vernon Plantation. She is buried there in the slave cemetery. (Photo credit J. Madama).