"I am an invisible man. No, I am not a spook like those who haunted Edgar Allan Poe; nor am I one of your Hollywood-movie ectoplasms. I am a man of substance, of flesh and bone, fiber and liquids--and I might even be said to possess a mind. I am invisible, understand, simply because people refuse to see me."
- Ralph Ellison's "Invisible Man"
West Ford in Digital Display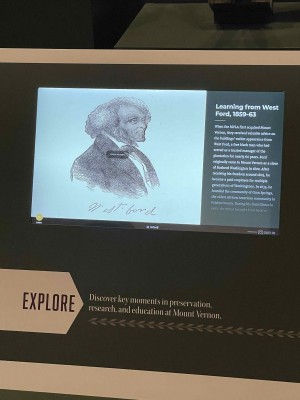 West Ford was instrumental in assisting with the renovation of the Mount Vernon when the Mount Vernon Ladies' Association purchased the plantation from John Augustine Washington III. Ford was the only one who knew information about the appearance of various architectural features on the estate like the color of walls and placement of furnishings in the Mansion House during the days of George Washington's tenure. This display is located in the Museum honoring the Mount Vernon Ladies' Association.